PERMITTED UNDER THE RULES OF GOLF
REVIEWED AND APPROVED BY THE USGA
The USGA reviewed the On Point Golf Ball Marker in 2019 and found no breach.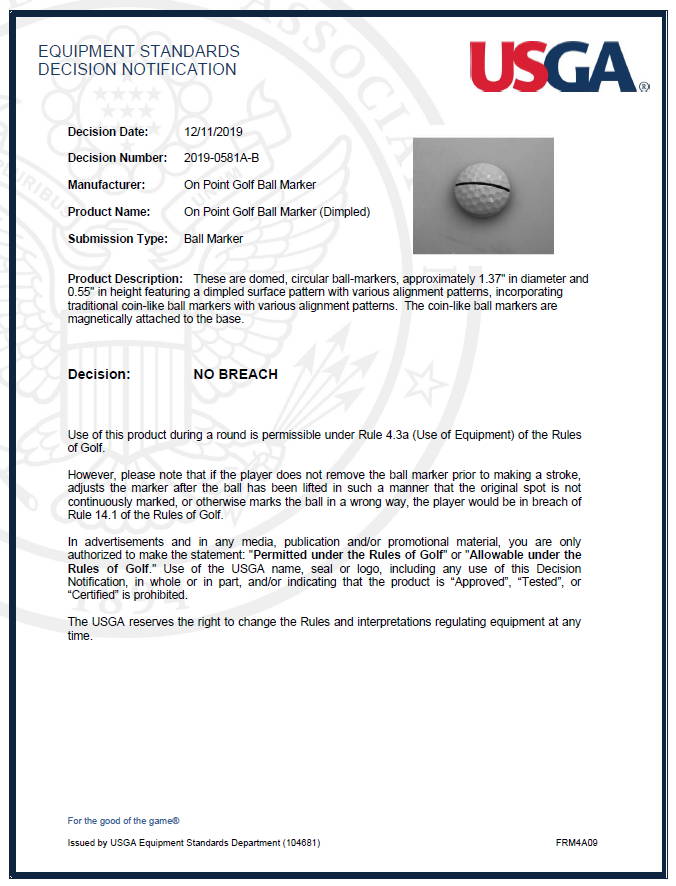 On Point manufactures the revolutionary three dimensional domed golf ball marker.Humans are 3D creatures, living in a 3D world, but our eyes can show us only two dimensions.The miracle of our depth perception comes from our brain's ability to put together two 2D images in such a way as to extrapolate depth. This is called stereoscopic vision.Because your eyes are separated on your face, each retina produces a slightly different image. That difference in images is a direct result of the depth of the objects that we are looking at. When those two images are assembled in your brain, they are interpreted as depth.In putting, we need our vision to identify our aim point (target), to aim our putter face to it, and to visualize the distance between the ball and the hole.Unfortunately, our peripheral vision can be a distraction in putting.The On Point 3D marker allows the golfer to dial-in his/her focus and intensely concentrate, creating the effect of "tunnel vision" which enhances the golfers confidence and ability to make putts.

We have partnered with U.S. Open Champion and 17 time winner on the PGA TOUR, Jim Furyk. As our On Point golf ambassador Jim joins a growing PGA, LPGA, and amateur golfers using our 3D golf ball markers.On Point golf ball markers include a secondary traditional coin marker that can be logo'd for any outing, charity event or corporate sponsorship.On Point 3D markers conform to the USGA's Rule 20-1 which "does not require a certain type of ball marker." The coin marker is included per Rule 22-2 in the event that the 3D marker might - in a rare instance -cause physical or mental interference.Enjoy the game and make more putts with On Point!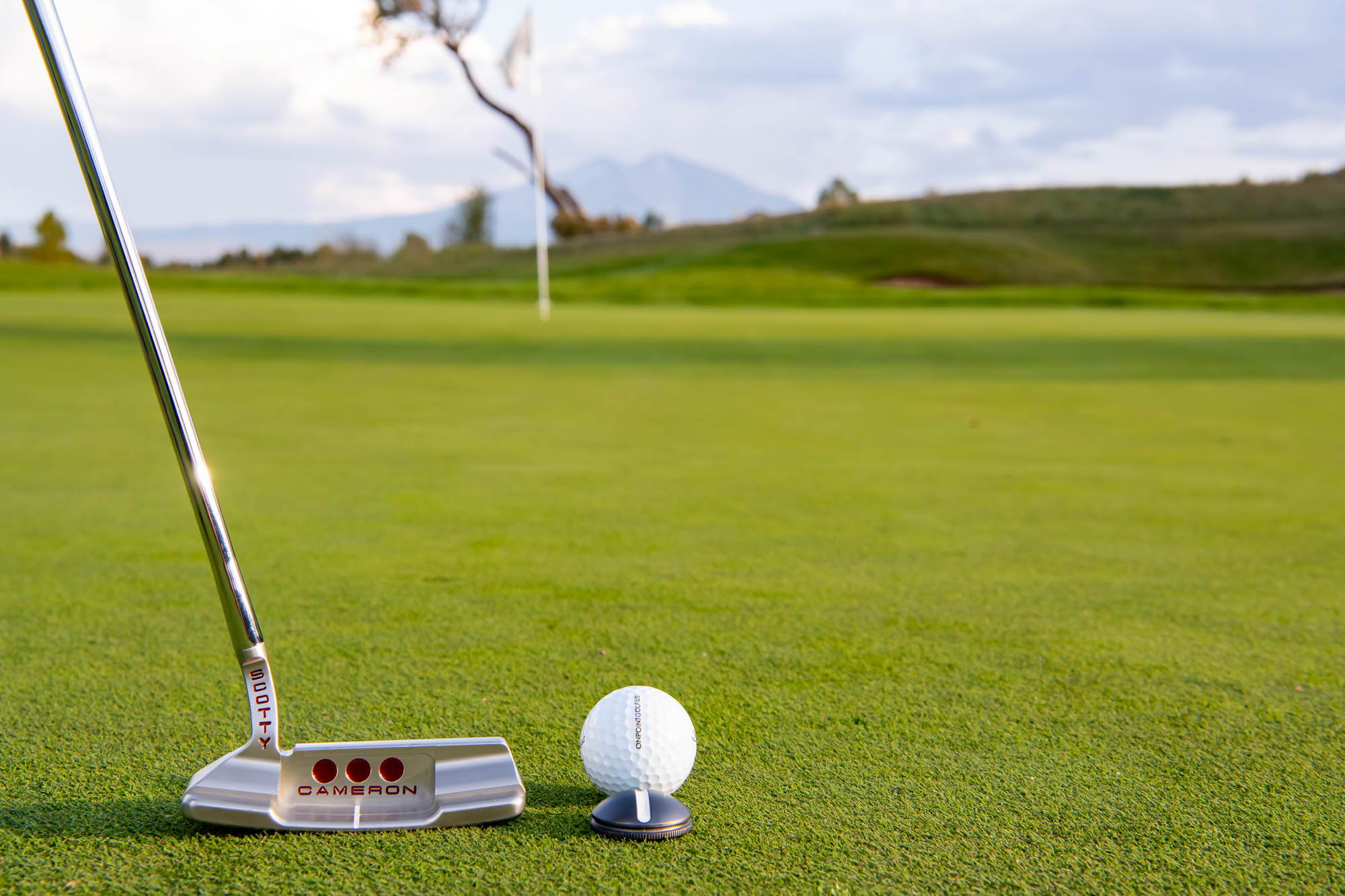 THE PATENTED ON POINT BALL MARKER
The patented three-dimensional On Point marker with its' two-dimensional coin is the only marker made with this feature. The domed On Point marker is design patented and is currently under review for a utility patent. The marker is 1-3/8" in diameter and is made of cast zinc. Its' smooth polished dome shape simulates the shape of a golf ball. The marker comes with a color matched On Point magnetic coin that easily attaches to the bottom of the marker and is removable with a simple finger press at the perimeter of the coin. The coin is 1-7/64" in size and it can be customized with a favorite club logo, brand, organization, or event. The marker is knurled around the base for easy handling and placement to insure an accurate mark. The smooth polished zinc marker is available with a single red, black, blue or green line. These line colors were selected to coincide with Sharpie marker colors and the lines offered by golf ball manufactures.
A golfer does not need to be a line putter to use the On Point marker. In early 2019 On Point released the premium white dimpled series. The white dimpled model simulates a golf ball and helps with long and short alignment reads. The body of the white, dimple-domed marker is currently available with a black or red single line and with two single blue lines and one red line. On Point is in the process of testing a double line and cross hair model. These products will be released in 2019.